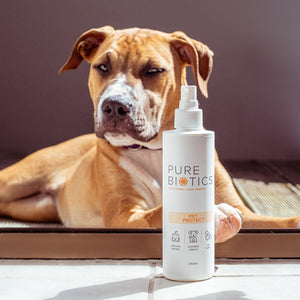 PureBiotics® Pet Protect - Natural Pet Care
Sale price Price $39.95 Regular price
Tax included.
Shipping
calculated at checkout.
Do you need to Reduce Odours & Help The Health Of Your Pet?
PureBiotics® Pet Protect has hundreds of healthcare and cleaning applications for your furry family members and is very simple to use.
Just simply spray directly onto the animal, any surface that requires the assistance of our good little helper (probiotics) and let the beneficial bacteria do the work.
Natural Pet Care

It is hypoallergenic
Eliminates odours
Use on "hotspots"or infections. 
Spray onto beds and toys to keep them fresh. 
Removes dust mite & other allergens, irritants & contaminants from the air
Reduce litter box odours by simply misting it every 5 days. 
Deconstructs biofilm for the most possible clean surfaces.
Works & protects down to the microscopic surface level, gets into unreachable places.
Keeps working, cleaning & protecting for up to 3 days after each application 
Creates a powerful protective layer of beneficial StaBiotic™ bacteria
Economical 
Safe, chemical-free, 100% Non-GMO organic beneficial probiotics