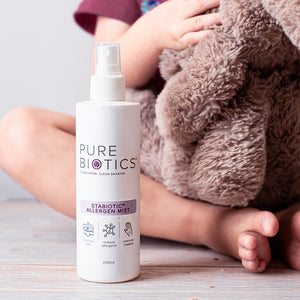 PureBiotics® StaBiotic™ Allergy Mist -Designed to target potential allergens.
Sale price Price $39.95 Regular price
Tax included.
Shipping
calculated at checkout.
Elevate Your Environment with PureBiotics® StaBiotic™ Allergy Mist
Experience a new level of freshness and comfort with the PureBiotics® StaBiotic™ Allergy Mist. Discover a versatile solution that offers a unique approach to enhancing your surroundings. This innovative mist is designed to transform your environment and create a more enjoyable atmosphere.
Key Benefits:
Freshen Up Any Space:Say goodbye to unwanted odours and welcome a more inviting environment.
Breathe Easier: Experience the potential benefits of a cleaner atmosphere as the mist aims to reduce dust mites, allergens, irritants, and contaminants from the air.


an innovative approach, covering hard-to-reach surfaces while addressing overlooked areas like hidden ductwork. This efficient method harnesses the power of beneficial bacteria to potentially reduce the need for extensive cleaning routines.

Effortless Application: Simply spray the mist on surfaces and let the potential benefits unfold. It's an easy and convenient way t enhance your environment
A Fresher Clean: The mist's potential to assist in breaking down biofilm and provide a layer of potential microscopic protection contributes to a potentially cleaner environment.
Lasting Freshness: Enjoy the lingering effects of the mist's potential benefits for up to 3 days after each application, extending the freshness over time.
Nature's Best: Crafted with care, the mist is safe, chemical-free, and composed of 100% non-GMO organic probiotics, aligning with a natural approach.